The next generation of mobile payments…
Drive success, hit targets and increase conversions with a fully PCI compliant, secure payment interface using Mobile Journeys.
Choice of integrations with multiple devices & payment providers
Choose Mobile Journeys for their multi-channel opportunties. Our marketing journeys for promotions can operate independently or can be integrated with many Adelar Trading Corp. products; SMS, Voice, Email & Web. Integrate with your existing payment provider to avoid disruption to your current payment processes. Our secure payment portal can be easily integrated into all major payment providers. 
Unique, personalised and dedicated payment processing
Adelar Trading Corp. create your business and customers a focused and targeted path which is suited to both of your needs. You can guide your customer from start to finish without any room for distractions, perfect for closing that deal. Our mobile payment solutions are also completely customisable and can reflect your company branding to fit with your current online presence.
Quality, secure and robust mobile promotions  
We recognise the importance of security and compliance standards, especially for businesses that operate in highly regulated environments. That's why we provide a highly secure, PCI DSS compliant environment that will easily integrate into your existing payment processor. Enable payments in seconds!
Track & report on your engagements
Our managed system can be tailored to suit your requirements whether you want all touchpoints or just parts to be captured. Monitor the performance of your journey, identify drop out points and improvements responsively as data is captured. This is perfect for identifying what your customers respond to best.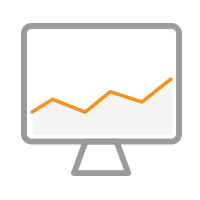 Transparent pricing with a fully supported service
Beginning with a low initial setup cost for the creation of the journey, Mobile Journeys are efficient and affordable. A fully managed service, Mobile Journeys enable us to pass on the benefit of our years of experience and development expertise which can help you to make your service, product or process even better.
Simple setup.
Secure transactions.
Increased revenue.
A transactional journey that makes payments easy.
What if you could connect your business with its customers at the single push of a button or swipe of a screen? Using our secure online system your customers can pay whenever suits them. It gives you the flexibility to take payments outside of working hours.
Whether you are collecting debt, encouraging a customer to purchase or renew a service or product, require a loan settlement or wish to make the processes of renewal and council tax payments simpler; Mobile Journeys can offer secure payment processing and transactions on-the-go.
Secure payments, reliable platform.
Our PCI DSS compliant platform can integrate easily with your existing payment provider so that there is no disruption to your existing processes. This allows customers to pay in seconds at a convenient time for them.
Use for:
Renewals & first purchases
Debt collection
Utility bill payments
Ecommerce 
Loan settlements
Public sector payments
Season ticket or travel renewals
"27% of consumers plan to use some form of mobile payments in the next 6 months"
Killer mobile payment stats
 

Mobile commerce is on the rise, 33% of orders came from a mobile device rather than a computer in 2014.


(Shopify)

40% of shoppers consult 3 or more channels (often while shopping) before making a purchase.


(Convince & Convert)

 

Brits spent £1 million on mobile devices every 35 minutes in 2015. 


(RetailMeNot)